Playtesting Disc Jockey Jockey at OGDE
I had a great time at the Ohio Game Developers Expo in November. The expo has grown by leaps and bounds in just a couple of years, and this year's schedule of events was filled with interesting talks and workshops. I had the chance to informally show my in-development audio game, Disc Jockey Jockey, to lots of other developers, a couple of pro musicians, and a professional voice actor. They gave me a wealth of great new ideas and helpful criticisms to chew on as I continue to shape the game.
I was at OGDE as an attendee. RunJumpDev had a booth showing Super Soul's Beam Me Up and Ralph's Daydream Blue for Gear VR, but I was on my own. On the final day of the event, Justin, a friend of RunJumpDev, abandoned his table on the show floor to leave for another engagement. I wish I could say I looked at the empty spot and immediately thought, "opportunity!" That wouldn't happen until several hours later.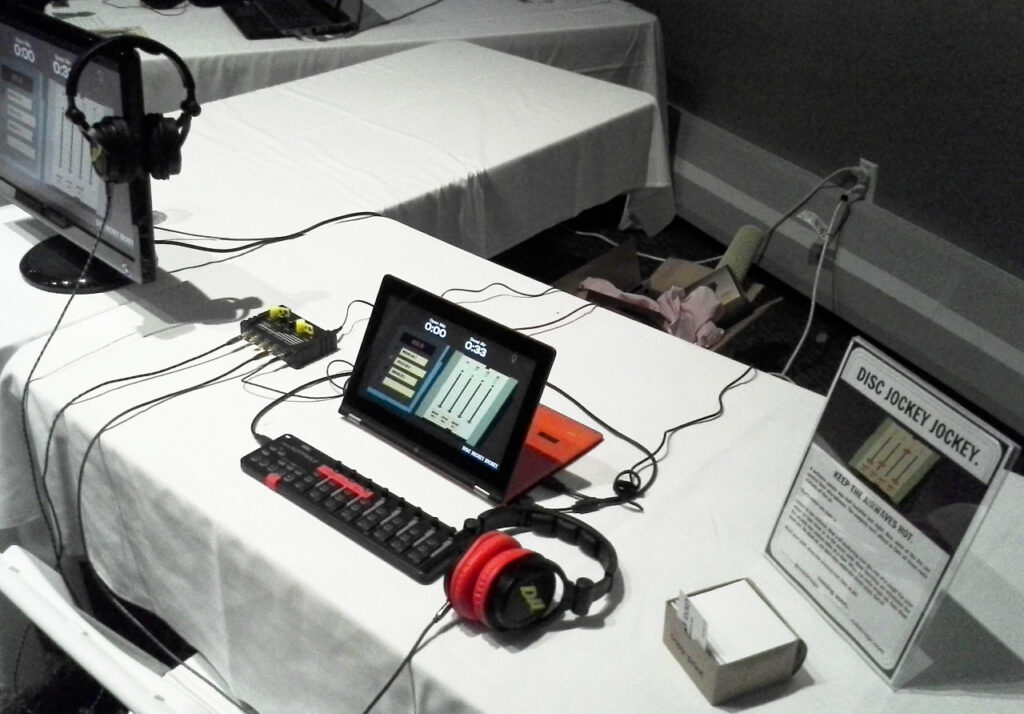 I presented Disc Jockey Jockey at the Free Range Arcade event in Bloomington, Indiana the Friday night before OGDE. All my gear and promo materials from Free Range Arcade were still in the trunk of the Super Soul Suzuki in the parking lot on Sunday. Around 4PM, with an hour 'til close, I turned Justin's former spot into an unsanctioned Disc Jockey Jockey booth.
There were so few attendees left by this point that I didn't get to show the game to any unfamiliar faces. Any stragglers were hugging the stage for the Extra Life raffle announcements, tickets clutched in hand. I was in the right place with the right equipment, almost at the right time. Not all was lost; I did get several RunJumpDev and Game Dev Lou friends to playtest the game for the first time. More feedback, more experience with my show setup, more notes.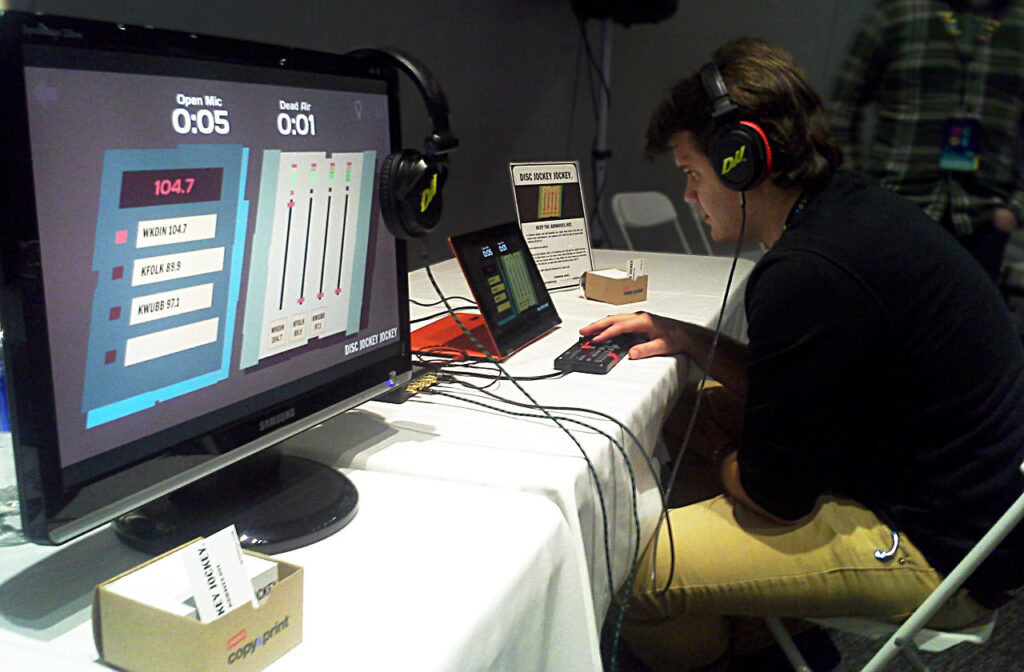 Always be looking for opportunities to let other people—especially people you'll never see again—hammer on your thing and tell you what they think. I was at a table full of people waiting for workshop slots to open up and I had a couple of them playtest. I was milling around after a talk and found a couple of people to playtest. I demoed to a musician who, at his panel the next day, told the audience to go find me and try Disc Jockey Jockey for themselves. You can gain allies and insights when you put strangers at the controls.